Cookie information
We use cookies on this website. Cookies help us deliver the best experience on our website. Read about cookies.
Studying with a disability
Studying
with a disability
As a student with a disability you have the right to be able to study on equal terms in a good study environment. You can get support from the university if you are a student or doctoral student and have a lasting physical, psychological or other limitation.
How to apply for support
When you have been admitted to a course or programme, you can apply by logging in to the Nais database using your computer identity. The application will ask you to describe your disability and how it affects your studies. The first time you apply you must also include a certificate verifying your disability. The disability should last at least 6 months.
To receive learning support, you must:
be admitted to a course or programme at the University
have a document certifying your disability
apply for support
Certificate verifying your disability
The certificate should verify your disability and be issued by a licensed healthcare professional such as a doctor, psychologist, audiologist or licensed dyslexia therapist. If you have not seen a healthcare professional for diagnosis, you can contact the healthcare service 1177 for more information on who to turn to. The certificate must include:
your name and the name of the person/institution issuing the certificate
the date of the assessment or the date you contacted the healthcare service provider
how long you have had a disability or had medical contact
how long the disability is expected to last
how the disability affects you
Apply through the NAIS database
What happens next?
After your application has been processed, you will be contacted by a member of staff who works with learning support.
After discussing your needs with one of our staff members, you will receive a NAIS-decision outlining the support offered, which you then present to your teacher. 
Support during your studies
You can apply for support when you have been admitted to a course or programme.
If you have a severe visual impairment, need a sign language interpreter, or if your teaching facilities need to be adapted, contact Learning Support before you start your studies to ensure that the support is in place for you as soon as possible. You may also apply for support once you have been accepted to your course or programme. 
The most common forms of support are:
1. Notetaking support
Notetaking support means that a classmate will be compensated for taking notes for you during lectures and scheduled seminars. You need to be present at the lectures and seminars where you will receive notetaking support. 
You will need to ask a coursemate if they can be your note-taking support. When you have found a note-taker:
Send an e-mail to Petter Rasmusson with your note-taker's name and e-mail address.
Your note-taking support will then receive all the information they need.
If you have trouble finding a note-taking support your teacher can also help by sharing information in class or on Canvas about being a note-taker. You can send your course coordinator information for teachers about the note-taking support module on Canvas. Students who are interested in being a note-taking support can register their name in the module and as a student with learning support you can go into the module and find a note-taking support. You contact the student yourself and then contact Petter Rasmusson with your note-taking support's name and e-mail address.
2. Supervision
Supervision support might mean getting extra supervision in connection with your thesis, an internship, or clarification regarding study tasks. Supervision is often carried out by a teacher. 
3. Lecture material in advance
To help you follow presentations, teachers can make lecture material available in advance. Talk to your teacher to get more information about whether this is possible for you.
4. Guide
A person to help you find your way around the University.
5. Audio and video recording during lectures
You can receive a recommendation allowing you to record lectures. 
6. Mentor
You may be entitled to help from a mentor, for example to plan and structure your studies. The support is structured around the individual students' needs. 
If you are interested in being a mentor you can find more information on the webpage Become a support person. 
7. Assistive software, speech synthesis and talking books
Your studies might be facilitated by various assistive software, such as spelling programmes, or speech synthesis programmes that reads text in word documents and on web pages. All students at the University, not just those who have been granted learning support, can download assistive software on their private computer free of charge. In addition, students with reading disabilities can turn to the library for access to talking books.
8. Support during exams
Common support measures during exams include writing your exam on a computer, time extensions and the opportunity to take an exam in a smaller group.
9. Technical equipment
You can borrow technical equipment such as dictaphones, digital highlighters and smart pens from Learning Support.
All students should have equal access to international opportunities, irrelevant of whether they have a disability or not. International opportunities can include an exchange semester, doing an internship abroad or writing your thesis abroad.
At partner universities you will receive a similar level of learning support to that which you receive at Malmö University. There is extra support available for writing your application for studies abroad. Within several exchange programmes, there is also the possibility to apply for extra funding if you have a disability.
If you would like more information or have questions about learning support and international opportunities you are welcome to contact the Department for Learning Support at pedstod@mau.se or International Office. 
Know your rights: Support for students with disabilities 
According to the Swedish Discrimination Act, students with documented lasting disabilities have the right to special pedagogical and compensatory support if such a need exists. You can read more about your rights in the document titled The Rights and Responsibilities of Students at Malmö University. 
Support measures may take the form of aids/specialist equipment, adapted literature, specially equipped computers, support staff and adapted examinations. Students are required to submit an application in order to have their needs assessed. The student will be notified of the decision to grant support, and is responsible for passing on the information to their teachers.
Teachers and examiners are required to consider the proposed measures in the decisions regarding adaptions to teaching and examinations, where decisions are reached pursuant to the Swedish Discrimination Act. However, the point of departure shall always be the intended learning outcomes stated in the course or study programme syllabus and adaptions shall be implemented in such a way that these outcomes can be examined. Examiners decide which adaptions are possible to make before examinations.
Read more about your rights and responsibilities in this guiding document.
Become a support person
Become a support person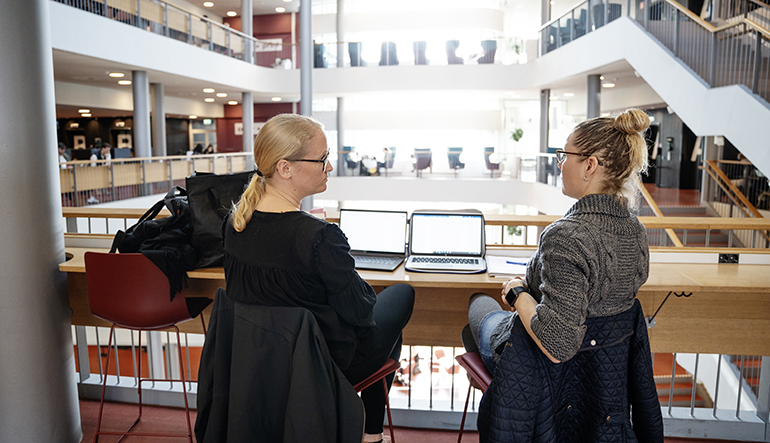 Become a support person
As a support person for a student with a disability you have a very important role. A support person can work as a note-taking support, a mentor, a guide or a writing support. As a support person you support a student to succeed in their studies whilst at the same time learning a lot yourself.
Comments or complaints 
Any comments or complaints about the learning support service can be submitted to Malin Alfredsson.
Page modified: 2022-07-01