Cookie information
We use cookies on this website. Cookies help us deliver the best experience on our website. Read about cookies.
Leapfrogs
Do you have an idea that you think could benefit society? Would you like to work full-time during the summer to explore its potential? Or are you already well on your way with your idea but need more time and money to develop it? We can help!

Leapfrogs is a scholarship of 33 000 SEK that gives you the opportunity to test your idea! The scholarship is available for students to work full-time on their idea during the summer, June-August. In addition to the financial support, Leapfrogs recipients are also offered coaching, business development workshops, and a valuable network of other students.
The Leapfrog scholarship is awarded as part of the work to inspire and promote the development of creativity, innovation, and entrepreneurship for social development at Malmö University. The idea behind Leapfrogs is to give students the opportunity to test ideas without preconditions. During the summer you can, for example, research target groups, design prototypes and interview prospective customers. Malmö University gives you the tools to succeed!
Key dates
Key dates 2022-2023
Application period: 12 December 2022 - 12 February 2023
Jury decision: 15-21 March 2023
Kick-off: 10 May, 16.00-18.00 at Zoom
Start date of the project period: 1 June
End date of the project period: 31 August
This is how it works
Leapfrogs is awarded as a scholarship of SEK 33 000, divided into two payments over three months. The grant aims to enable you as a student to work full-time on the development of your idea and can thus be used for idea development and living expenses during the project period.
The project starts with a kick-off for all scholarship recipients in May. During the Leapfrog project, four workshops will be organised to offer tools and methods that may be necessary for the work process. It is also an opportunity for you to meet and interact with other scholarship recipients.
Leapfrogs is a joint initiative between Malmö University, Lund University, Kristianstad University and Blekinge Institute of Technology. Each university is responsible for the Leapfrogs scholarships awarded to students at their universities, and differences in support and offers may therefore occur.
Extra support from Malmö University
Extra support from Malmö University
Extra support from Malmö University
In addition to the joint activities for all four universities, Malmö University offers extra support and coaching in connection with the application and during the project period. For those studying at Malmö University, this includes an offer of a workplace at an incubator during the summer, a start-up breakfast with all scholarship recipients from Malmö University and coaching during the project period from Drivhuset Malmö and MaU Innovation. At the end of the project period, we also organise an activity for Malmö University scholarship recipients where we reflect on the work done during the summer, share successes and setbacks and discuss the next steps for the projects. Malmö University also offers coaching to those who apply but are not awarded the scholarship.
Drivhuset and Mau Innovation
You can ask questions and pose ideas at Drivhuset during the application period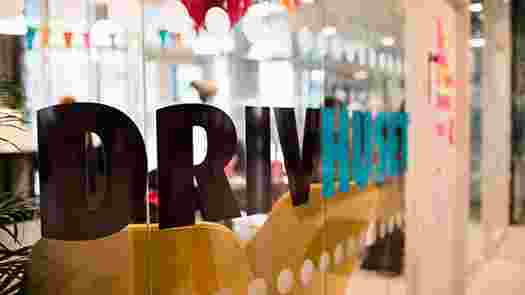 You can ask questions and pose ideas at Drivhuset during the application period
Drivhuset Malmö supports thinkers, freelancers, entrepreneurs, enthusiasts, and change-makers on their development journey. At Drivhuset Malmö, you get the knowledge and inspiration to push ideas and projects forward - from here to wherever you want to go. Drivhuset offers free coaching and a range of events and activities.
MaU Innovation is the provider of Leapfrogs scholarships at Malmö University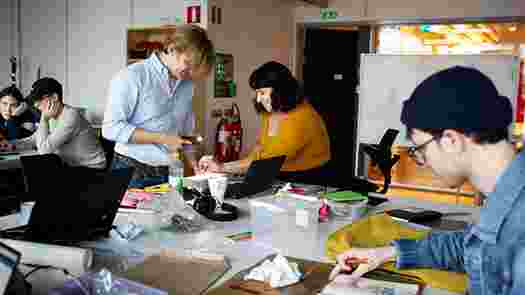 MaU Innovation is the provider of Leapfrogs scholarships at Malmö University
MaU Innovation is Malmö University's innovation unit and works to promote a creative study environment at the university. By offering coaching, events and activities that promote creativity and entrepreneurship, the ambition is that you as a student will feel you have space and support to develop your inner drive and problem-solving skills.
How to apply
Download and read the documents below before you start writing your application. If your project meets our application criteria and you accept the commitments made, you can submit an application.
If you are a group of applicants with a joint project, you need to submit one application per person. The Leapfrog grant is awarded to an individual and the jury will therefore only assess applications with one sender. Malmö University wishes to support as many projects as possible. Therefore, as a rule, only one cheque will be awarded per project; in exceptional cases, the jury may allow us to award two cheques per project.
To apply for the scholarship, you must have taken at least one credit at Malmö University, Lund University, Kristianstad University or Blekinge Institute of Technology during the past year.


Application criteria Leapfrogs 2023
Application form Leapfrogs 2023 (Younoddle)


Once you have submitted your application, the process is as follows:
Formal assessment. We will first check that you meet the formal criteria set out in the application criteria document.
Quality. The jury will then assess your application against our assessment criteria. The jury's decision cannot be appealed.
Decision. The jury will announce its decision between 15 and 21 March.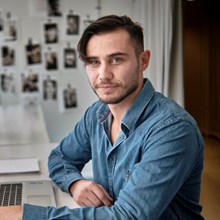 Franco developed his own business idea
You do not need vocational education to get a job after graduation. Franco Crudi got to start his own business alongside his studies.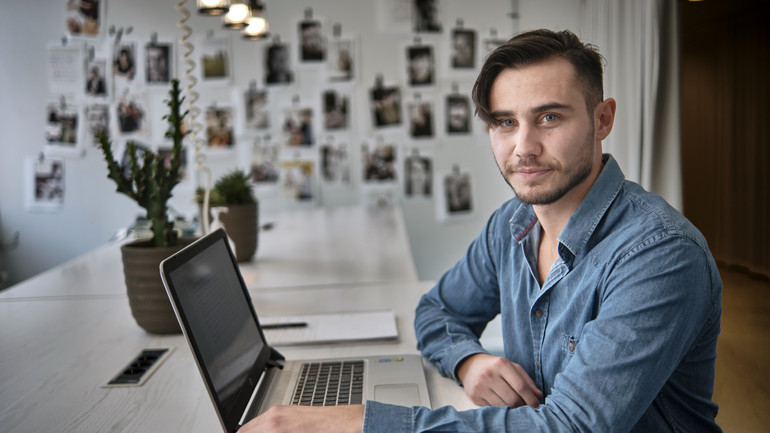 Franco developed his own business idea
You do not need vocational education to get a job after graduation. Franco Crudi got to start his own business alongside his studies.
When Franco moved from Argentina to Sweden for the Master's Programme in Urban Studies, he did not feel like an expert in anything. After completing his bachelor's degree in Argentina, he worked as an architect and contractor for various organisations.
"I have broad experience and can see things from a holistic perspective. I wanted to take advantage of that."
Received help to revise his idea
Together with his business partner, Franco developed the business idea behind Swood Bikes. The idea evolved into a startup aiming to make it easy and sustainable for people to commute by offering bike pools – with bike service and no time limit.
To develop their idea, they received help from Drivhuset Malmö, an organisation that helps students free of charge by offering a variety of activities, workshops and guidance.
"They helped us with the idea in many ways. The people who work there have a lot of experience and great networks, and they helped us refine our business idea and how our team is organised. They also gave us tools that we could use to test our idea and challenge our perceptions. It helped me shape my vision."
Regardless of how the company develops in the future, Franco knows what is important to him in his career.
"I want to contribute to society and the environment, no matter what is it that I do. Even if I would work at the bottom of a company, it's important for me to know that what I do matters. My vision is that in everything I do, whether it's research, studies or running my own business, the most important thing is that I keep working toward that direction."
The scholarship helped in the company's development
Furthermore, Drivhuset helped Franco to apply for the Leapfrogs scholarship, 33,000 SEK, in order to continue developing his idea.
"The scholarship allowed me to work on my idea full-time during the summer. It was also useful to work independently, driving the development of the company all by myself."
"Another good thing about the scholarship was that it gave me the opportunity to meet and talk to other entrepreneurs – including those who told me about ideas that had failed. It's very valuable to be able to learn from that."
The startup house of Malmö took the company to the next level
Today, the company works at MINC, a startup house funded by the City of Malmö, which helps new startups by, among other things, providing guidance and premises.
"At MINC, it's a bit more professional and we work at what one might call the 'next level'. We get help to further develop our business idea, and the other entrepreneurs who work here are further along in their work."
"The best thing here is the people you get to know. They know investors and tools that are very useful. It's these kinds of things one learns by talking to others and asking questions."
Not long after his graduation, Franco obtained a position as a research assistant at Erasmus University Rotterdam by presenting his master thesis. However, the work with Swood Bikes lives on.
"My business partner still lives in Sweden, and we will continue to work on the idea. You never know what will happen in the future."
Page modified: 2022-12-20