Cookie information
We use cookies on this website. Cookies help us deliver the best experience on our website. Read about cookies.
Innovation and entrepreneurship
Innovation and
entrepreneurship
Are you interested in innovation and entrepreneurship? Do you have an idea that you want to turn into reality? Find out what support is available to you at Malmö University.
Do you have an idea you want to develop?
As a concept, entrepreneurship covers many areas. It can mean anything from starting a business to having an enterprising, ambitious attitude in general. Sometimes, this drive is likened to creativity: the ability to see opportunities where no-one else has seen them, or to recognise that improvements are needed because times have changed.
At Malmö University you can get support for concrete processes in areas such as:
Idea development
Financing and grants
Partnerships
Prototyping and pretotyping
How to protect your idea
Curiosity is the first step
You don't need to have an idea to get innovation and entrepreneurship support at Malmö University. Our support is also directed towards curious people who want to learn more about entrepreneurship and innovative projects or those who wonder which programmes and courses at Malmö University have innovation and/or entrepreneurship components.
Storm/Drivhuset
Storm Innovation Hub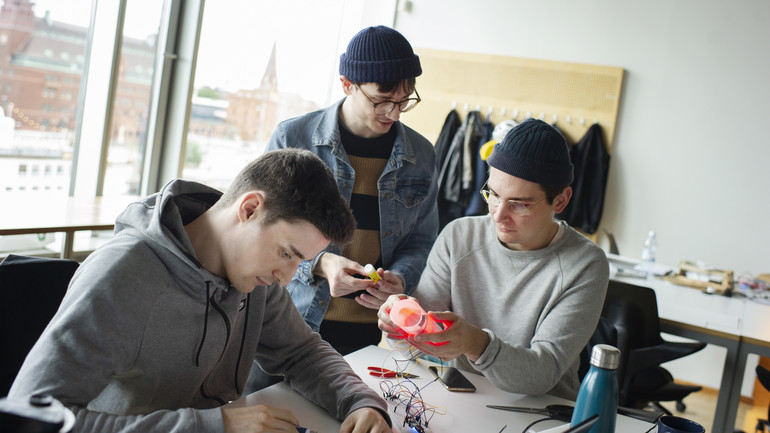 Storm Innovation Hub
Storm is Malmö University's innovation hub. Here, we work together to promote value-creating processes, by developing an innovative workplace. Storm is a place where you, as a Malmö University student, can explore and try out new things – either as part of your education or outside of your studies.
Drivhuset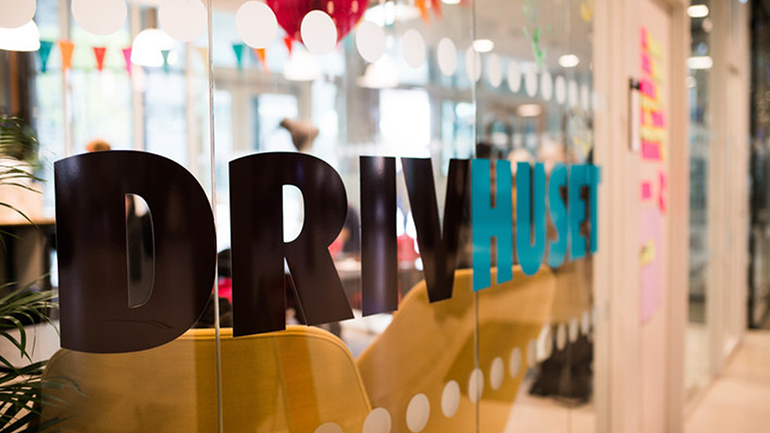 Drivhuset
Drivhuset supports independent thinkers bubbling with ideas, freelancers, entrepreneurs, enthusiasts, and change-makers on their entrepreneurial journey. Amongst other things, Drivhuset provides free advice and hosts a variety of different events.
Leapfrogs/Stormathon
Leapfrogs – test your business idea
Leapfrogs – test your business idea
Do you have an idea that you've been thinking about? Do you want to work on it full-time to see if it's achievable? Or perhaps you've already started working on your idea but you need more time and money to develop it? We can help you! Leapfrogs offers scholarships of 33,000 SEK to enable you to work full-time on your idea, from June to August. Additionally to the financial support, you will be offered support in areas like business development and sales pitches.
Stormathon – innovation competition
Stormathon – innovation competition
Stormathon is an innovation competition inspired by traditional hackathons and involves working alongside others to create new ideas and solutions in a short time. Students with an interest in innovation and an enthusiasm for problem-solving that can benefit society are welcome to apply. You will then be split into dynamic teams according to your different competencies. Throughout the day, all the teams will work on the same assignment, supplied by an external client.
How to protect your idea?
What exactly is a patent? How do you get one? And what do all those symbols mean? There are a lot of questions around intangible assets, their protection, and your rights. While you should keep certain ideas secret, others are worth sharing so that they can be developed and refined.
Scholarship from the Sten K Johnson Foundation
The Sten K Johnson Foundation offers grants in areas including entrepreneurship, medicine, technology, and education. The grants range in value from around 15,000 SEK.
The grants are applicable to specific, clearly defined projects with detailed, clear plans, an explicit goal, a timetable, and a budget. Applications are assessed on criteria like innovativeness, benefit to society, and interdisciplinarity.
Page modified: 2022-06-27