Cookie information
We use cookies on this website. Cookies help us deliver the best experience on our website. Read about cookies.
Graduation and alumni network
Congratulations to the class of 2024! You crossed the finish line, tapping into all your strength and resolve. We are so proud of you, graduating from Malmö University means you are now a member of the Malmö University Alumni Network.
We don't want you to miss out on our alumni services, opportunities to engage, or keeping up to date with the work Malmö University does which could aid your career choice. With that in mind, we kindly ask you to take the steps laid out further down this page.
Keep in touch, and stay connected!
What does alumni mean?
What does alumni mean?
What does alumni mean?
Once you have completed your studies with us, you are officially an alumni of Malmö University.
Join the alumni network
We want to connect with you during, what we hope will be, your lifelong relationship with Malmö University. It is free to join this professional and social alumni network by filling in your contact details. You will receive the latest news, opportunities, and invitations to events. 
After graduation, are you ...
stepping forward and doing a master's?
As a member of the Malmö University Alumni Network, we want to make it as easy as possible for you to take your next steps. A master's can help you to specialise in your chosen subject, gain specific industry experience, or even explore a new field altogether.
checking out the careers support available to alumni?
Your Career Services team are a dedicated group of employability experts, here to support you in your career.
As an alum, you'll be able to access a range of employability tools, one-on-one conversations with someone from the Career Services team, attend online and in-person careers guidance and skills workshops, take part in industry insights events, and career fairs where you can meet employers face to face.  
Future Finder is the University's career portal where you can look for your dream job, and where employers can post job descriptions to students and graduates of Malmö University.
Malmö University Shop
Get your hands on the latest Malmö University merchandise, and don't miss the opportunity to win a Class Of 2023 t-shirt. More details in the 'Share the news' section below.
Boost your CV by volunteering with us!
There are many opportunities to work with the Alumni Team to gain experience and develop your skills.
Alumni Champion
share your Malmö University experience with prospective students at open days, recruitment fairs, or through digital events
be a contact in your city or country. Help the Alumni Team organise events and build a vibrant local alumni network by giving us a local's perspective.
Online Social Media Champion
If you're looking to gain social media experience, the Alumni Team is always on the lookout for volunteers to help keep the alumni digital groups and networks active.
An Online Champion would:
promote a group within their own network
post relevant content within a group a couple of times a month
Sign up to become a Champion:
Your information is processed in accordance with the EU's data protection regulation (GDPR).
Share the news
As a new graduate, you can share the exciting news with your network on your favourite social media channels.
Proud to be a graduate of Malmö University. I want to thank my professors and fellow students for some wonderful years #maugraduation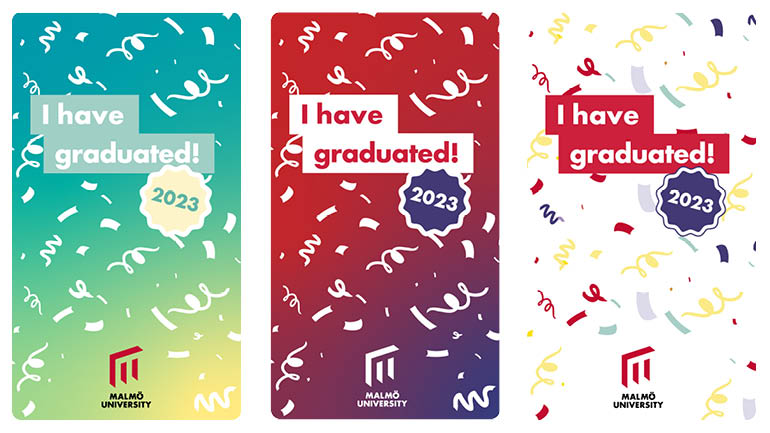 Download images for social media channels – choose between different colours
Hashtags
We would be delighted if you would use the following hashtags in your social media posts.
#maugraduation
#MaUalumni
#MaUClass2023
#malmounialumni 
Competition
Did you graduate in 2023? Want to be in with a chance of winning a t-shirt? Post on social media channels Instagram, Facebook or LinkedIn using the hashtag #maugraduation with a memory from your studies or your time in Malmö, and we'll choose the 10 best posts.  
Good luck & stay in touch!
Page modified: 2023-11-24