Cookie information
We use cookies on this website. Cookies help us deliver the best experience on our website. Read about cookies.
Your future career
Get help with: identifying and mapping your skills, marketing yourself more effectively, discovering various strategies for finding jobs, and finding the best way to contact companies. Career Services can help you to improve your job search process or to get your own business going.
We will go through issues of skills inventory, networking, and CV and job interview preparation. If you are interested in starting your own business, we recommend that you visit the website of Drivhuset.
Career course, presentations and events
Throughout each semester, you have the chance to take part in various presentations and numerous events wherein you will be exposed to advice on how to find your dream job or become self-employed. To accommodate your needs, we try to offer these in-person or virtually thorough Zoom or Teams.
In addition, we are able to meet one-to-one for an individual career-related consultation. Although, but before we book a session, please complete our career course on Canvas and take part in our career-related presentations (in English or Swedish). 
If you still want to meet one-to-one for an individual career-related consultation you can find our available time slots on Future Finder. If you are unable to find an available time you can email us at career@mau.se and we'll help you.
All presentations and meetings are free of charge, you just have to create an account with Future Finder, the career portal of Malmö University.
Finding a job
Looking for job vacancies?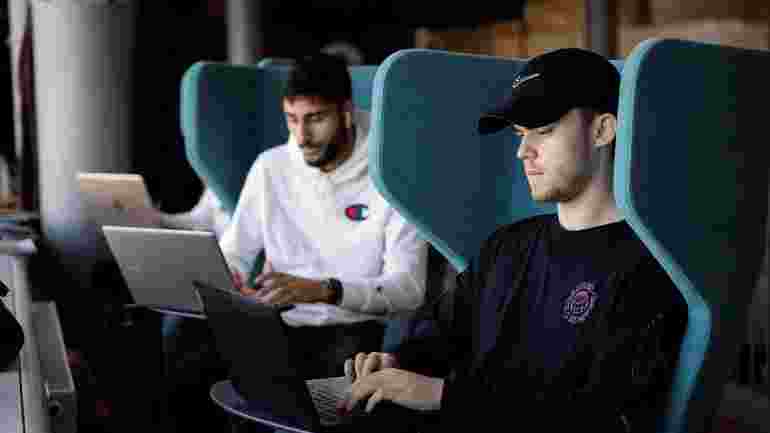 Looking for job vacancies?
Future Finder is Malmö University's career portal, where you can find job ads, degree project opportunities, internships and full-time and part-time positions targeted especially towards students.
Career Services' top tips for finding a job
Make a thorough inventory of your skills, your knowledge and your experience.
Create tailored application documents (target your application towards specific jobs you are applying for takes time, so make sure you start the process as early as possible).
Build your professional network to create opportunities for the future (this can include the creation of an attractive LinkedIn profile, which tends to be used by recruiters to post vacancies and find future employees).
Attend Career Services' Career course in Canvas and participate in our presentations and workshops to get help with planning your future career.
Possible jobs and career paths
During your time at the University, many questions may arise about what kind of job would suit you after graduating. Our online course catalogue list all the University's study courses and programmes. On the programme page, you can find examples of possible professions and career paths relevant to your study courses and programmes.
Reflecting on the courses you have studied and the knowledge you have acquired makes it easier to market yourself and your skills to employers
search for your education programme
go to the 'About the education' tab
Peer Support network
Students have the opportunity to join a Peer Support network in association with Malmö University.
This is an initiative to encourage career-related mental wellbeing by helping students getting in touch with other students (i.e., student peers) to discuss and support own and student peers' career-related challenges and mental wellbeing. As such, participation and contribution is voluntary but its success relies on "sharing is caring".
More about Peer Support network
In short, the Peer Support network IS…
…an initiative to prompt discussions on the meaning of self-awareness, self-confidence and ability to take ownership on career-related transition and or progression
…a place wherein you and your student peers are given the chance to work on career-related challenges and support own and student peers' career-related transition and or progression
and NOT…
…a course with coursework
…a place to discuss field or study specific details (e.g., how SPSS works or what research method to use for my specific research project)
I hope you feel inspired to join! If so, keep an eye open for the Peer Support network January - May 2024. Instruction on how to apply will be posted here summer 2023.
For more information on pre-planned sessions and modules included in the Peer Support network 2022–2023 for Master's degree students, download the document "Career-related Peer Support" below.
Contact the Career Services
If you still have questions or concerns after reviewing the career support we offer through our courses and workshops, please contact career@mau.se.

In order for us to help you in the best possible way, please describe in a little more detail what kind of support you wish to receive, and suggest a time when you would like to have a virtual one-to-one conversation.
Page modified: 2023-04-24