Let's create art – together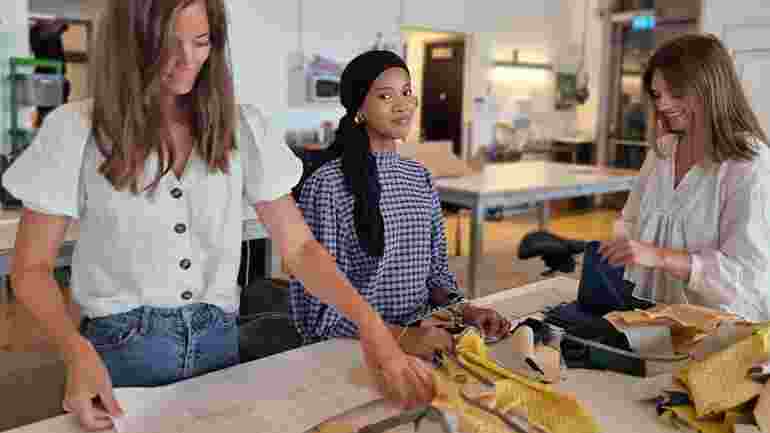 ANNIVERSARY CELEBRATION. Together, students, alumni and staff will create an artwork that reflects the spirit of Malmö University. This is the idea behind an activity organised by design students Alexandra Rehn, Alya Mohamed and Li Odén during the anniversary celebration on Thursday.
The artwork will consist of strips of fabric on which participants can write, and the creation work will take place at two stations.
"First, when arriving at Niagara, you will get a strip of fabric to write on. The idea is to write about something you have taken with you from your time at Malmö University so far, or about want to do with your time here in the future," explains Alexandra Rehn.
"The next step is to go out and hang your strip of fabric on a stand outside the Student Union building, where it will form an artistic wall together with the other strips. The idea is to create an outdoor installation," says Alya Mohamed.
The idea is that the artwork should last and be sustainably produced.
"The strips are made of fabric instead of paper so that they will last if it rains. About half of the fabrics are bought second hand, but we had to buy some new ones to get the right shade. The colours are inspired by the colours of the City of Malmö and the University's logo, which we made our own interpretation of," says Li Odén.
What are your hopes for the artwork?
"We hope, of course, that it will be a success – that as many as possible will want to take part, that they write something and hang up their strip. The hope is that the artwork will create a sense of inclusion for everyone involved. It would also be fun if people would take photos and post them," Alexandra Rehn, Alya Mohamed and Li Odén say.
Programme for the anniversary celebration
Author: Emma Danielsson
How to contribute to the artwork
Instructions from the design students: tell the story of Malmö University on a strip of fabric
We hope that you will reflect on what Malmö University has offered you, or what you have done for those here. Is there a person you will remember, in particular, and why does that encounter or connection mean so much to you? One sentence or conversation can change the direction of your life. We want to hear what you take away from your time here. Write down your story on a strip of fabric and help us build a work in textile that consists of thoughts and knowledge gathered from students, alumni and teachers.
Together we are Malmö University!
Location: Atrium, Niagara
Time: Thursday, 31 August 15.00 – 18.00